In 2019 I had the chance to go teach English in two cities in Peru, Lima and Chiclayo. Before going, I had a lot of misconceptions about South America, which, in Europe, is considered to be very dangerous. I knew I would have three weeks of holidays in the middle of my 3 month stay there, and I had decided not to travel anywhere during these holidays because I thought it would be too dangerous. I was alone and only 19 at the time. However, when I arrived there, I changed my mind straight away when I realised how many landmarks there were in South America, and started planning a 3 week trip.
Chiclayo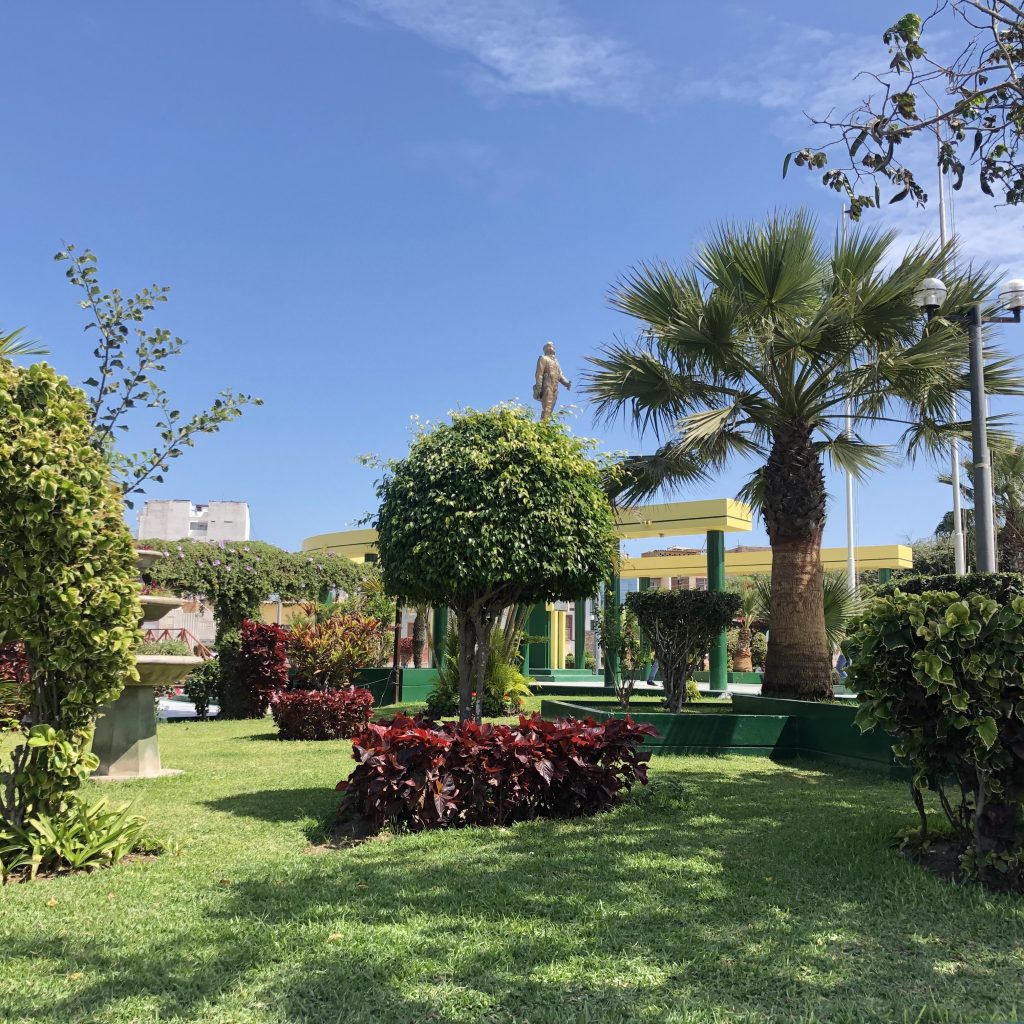 Chiclayo is definitely not a place which tourists usually visit when travelling to Peru. It is definitely a must for history lovers, and a pleasant city to love in for a few weeks, but I understand why tourists would give it a miss. I lived there for a month while I was teaching. Here are some of the places and activities I enjoyed in and around Chiclayo.
First, the Royal Tombs of Sipán Museum is situated in Lambayeque, a 20 minute ride from Chiclayo. I am fascinated by old civilisations, and Peru was home to the Incas. Sipán was and Inca king, and we can actually see his tomb and ornaments in the museum. Chiclayo is also near the coast, so I could go to the beach on weekends. There are many different beaches and small villages around it, such as Pimentel.
The city itself is a typical Peruvian city, with its small plazas with a park and a fountain. It is really pleasant to stroll around and to sit in small cafés. Most restaurants are just houses, which the owners open up, and it feels like being invited to eat at a friend's house.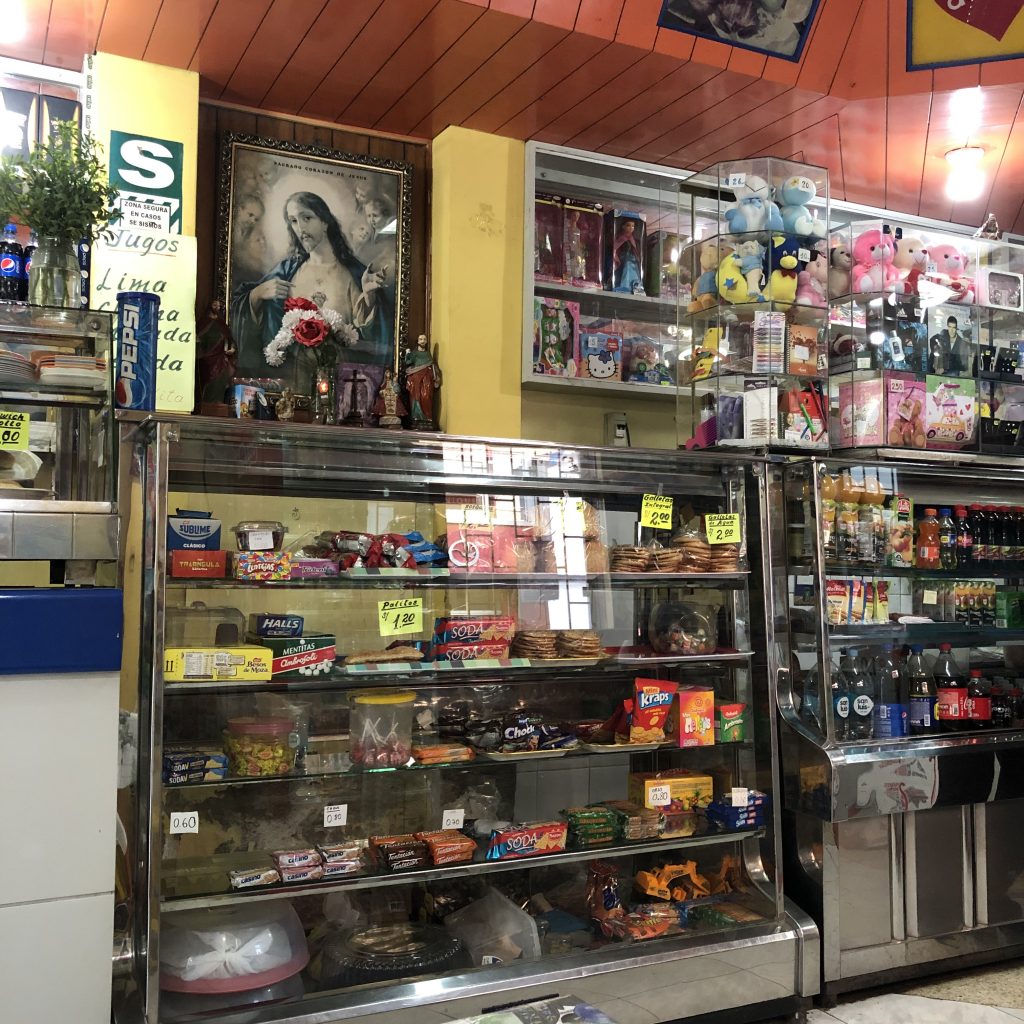 It is also really easy to meet people there. As a foreigner, I stood out because I did not live in a touristic area and did not speak Spanish. One day when I was in a café, the waiter asked me if I wanted to meet up with him so that he could practice his English. He took me to Paseo de las Musas, a park decorated with classical-style Greek statues. Even though we did not speak the same language, we could communicate. He told me his story, as a Venezuelan migrant in Peru. There are a lot of Venezuelan migrants in Peruvian streets, who often face discrimination and rejection, which is something that is not talked about enough in guide books and travel shows.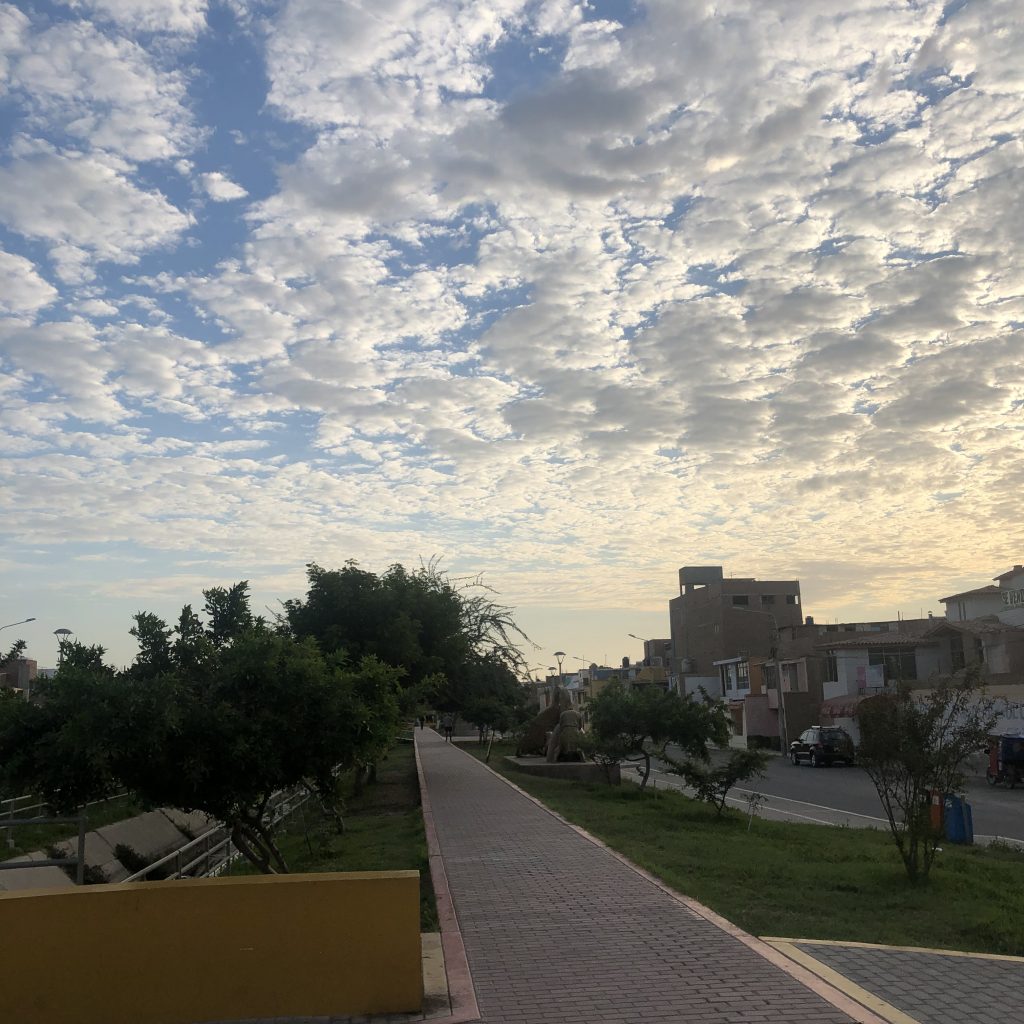 Transportation in Chiclayo was quite unusual to me. Taxis in Chiclayo are like public transport, you wait for it and get in with two or three strangers. There are also mini-busses, which are privately owned, and very cheap. Someone sits near the bus' door, and shouts the stops. As a foreigner, it is daunting to ride the busses, especially because you need to shout when you want to get off, and it is difficult to know when to get off when you do not know the city well.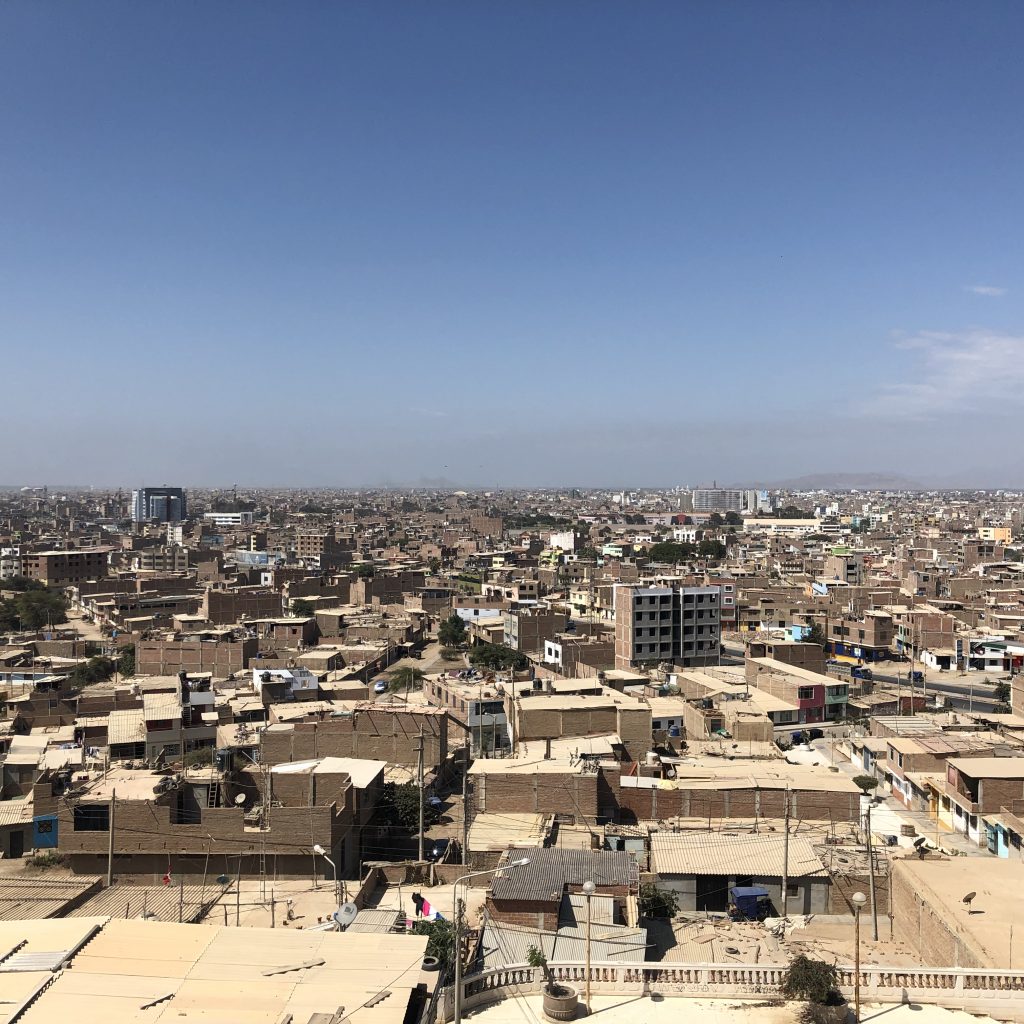 Paracas
After Chiclayo, I flew to Lima to start my 3 week journey travelling across Peru and Bolivia. I did it all by bus, because it was the easiest way to see every city on the way. There is a great bus company called Peru Hop, which has planned itineraries and is safer than other bus companies. It is important to choose safe means of transportation in Peru. In Europe, it is safe to travel with cheap airlines and bus companies, but it is not advised in Peru. At the start of my journey, I was scared, as it started to sink in that I would only be able to rely on myself for the next 3 weeks, that I would be on my own. South America, as beautiful as it is, it not always safe. Most of the people who I met while I was there got mugged or witnessed someone getting mugged at least once. I nearly got mugged in Lima once. I was in a McDonalds, near Kennedy Park — a park famous for being home to dozens of cats —, when a man asked me to take a picture of him outside. Thankfully, I refused to go with him when I noticed three men waiting for me outside. I was so scared that I hid in the McDonalds until they left, it did not even occur to me to call the police. But this does not mean that it is not worth visiting Peru, it just means that people should be careful and smart. I had to be careful to never take my phone out in the street, and to never carry a credit card or too much cash.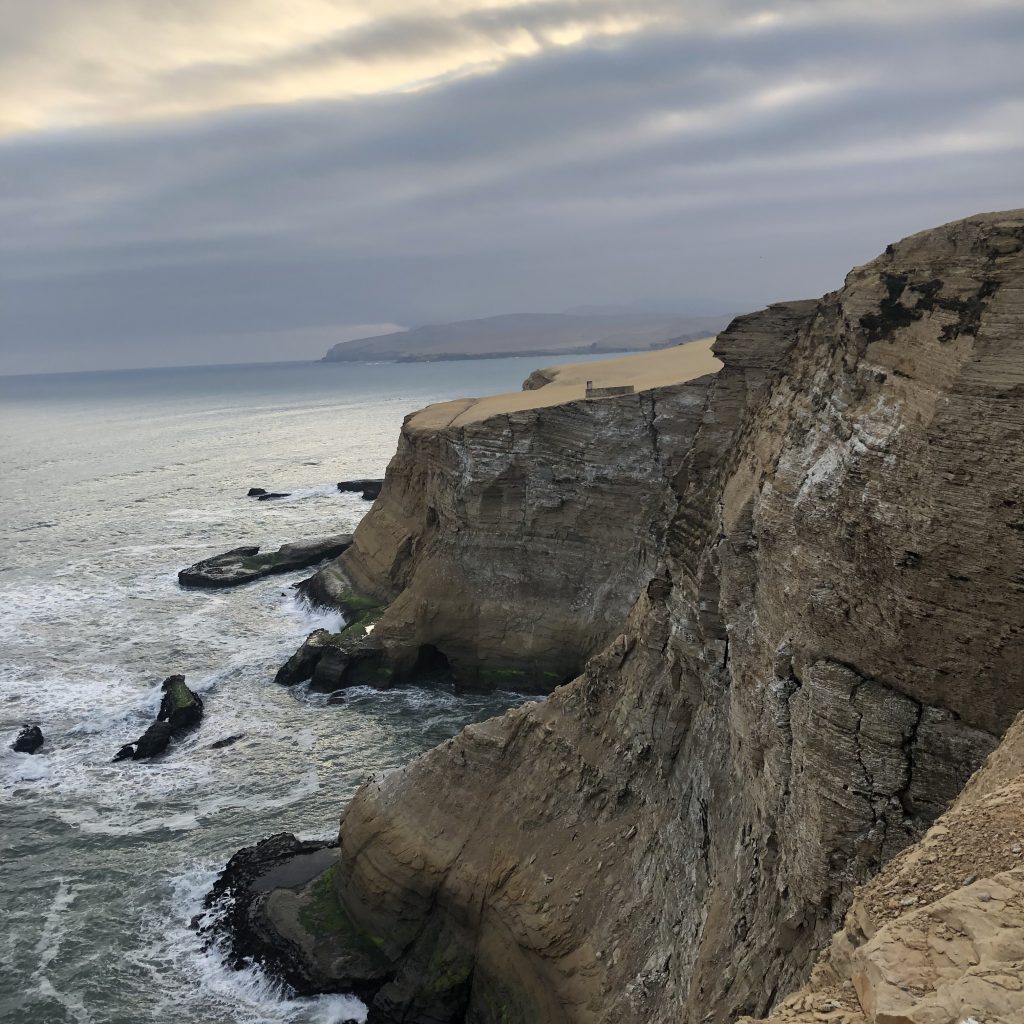 From Lima I travelled to El Chaco, a small beach village where I stayed for a night. I booked a bed in the smallest and cheapest hostel, which cost 7$ a night. The village is near the Paracas Natural Reserve, which is a desert with beautiful landscapes, where I went quad biking. I also went on a boat tour of the Islas Ballestas, which are small islands inhabited only by birds. The birds' faeces, called guano, is an efficient fertiliser which used to be collected on the islands. I would not recommend the tour to people who are sea sick, but the islands are beautiful with hundreds of birds flying around, and even seals sleeping on rocks. The tour guide also brings tourists to see a drawing of a giant cactus in the sand, which was made by Incas. We are still able to see it today because Peru gets little to no rain, allowing the conservation of historical Inca sand works.
Huacachina
I then travelled to Huacachina, which is definitely unmissable when visiting Peru. It is an oasis in the middle of the desert, where tourists can take part in sand boarding and dune buggy rides. The security restrictions are much lower in Peru than in Europe, so no protection such as helmets is given to tourists. Sand boarding was nevertheless an incredible experience: tourists are given a wooden board which resembles a snowboard and slide down the dunes. I also enjoyed the dune buggy ride, although I later found out that buggies create a lot of pollution. The rides are not suitable for young children or people with heart conditions.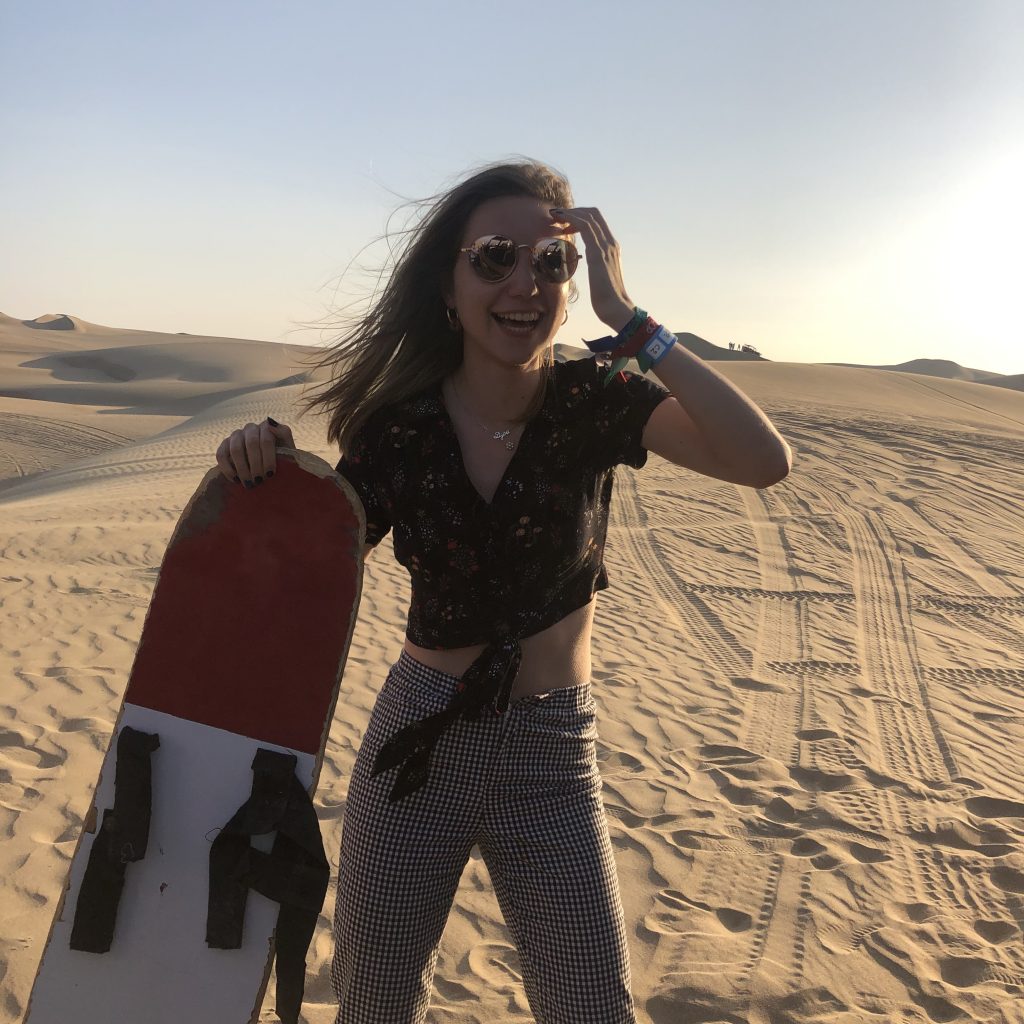 Huacachina itself is a greenish lake with a few houses around it. It is not worth spending more than a night there. It is also known for being a party spot, and its bars and clubs are very animated at night. The best place to stay the night is the Wild Rover Hostel, which has great facilities and cheap dorm accommodation. The beds are little cubicles stacked on top of each other and provide privacy with a curtain at the entrance of the cubicle. Wild Rover is a chain of hostels located in Peru and Bolivia. They all have great bars and are perfect for meeting people. They also offer themes and activities for different nights, such as glitter night or pool parties.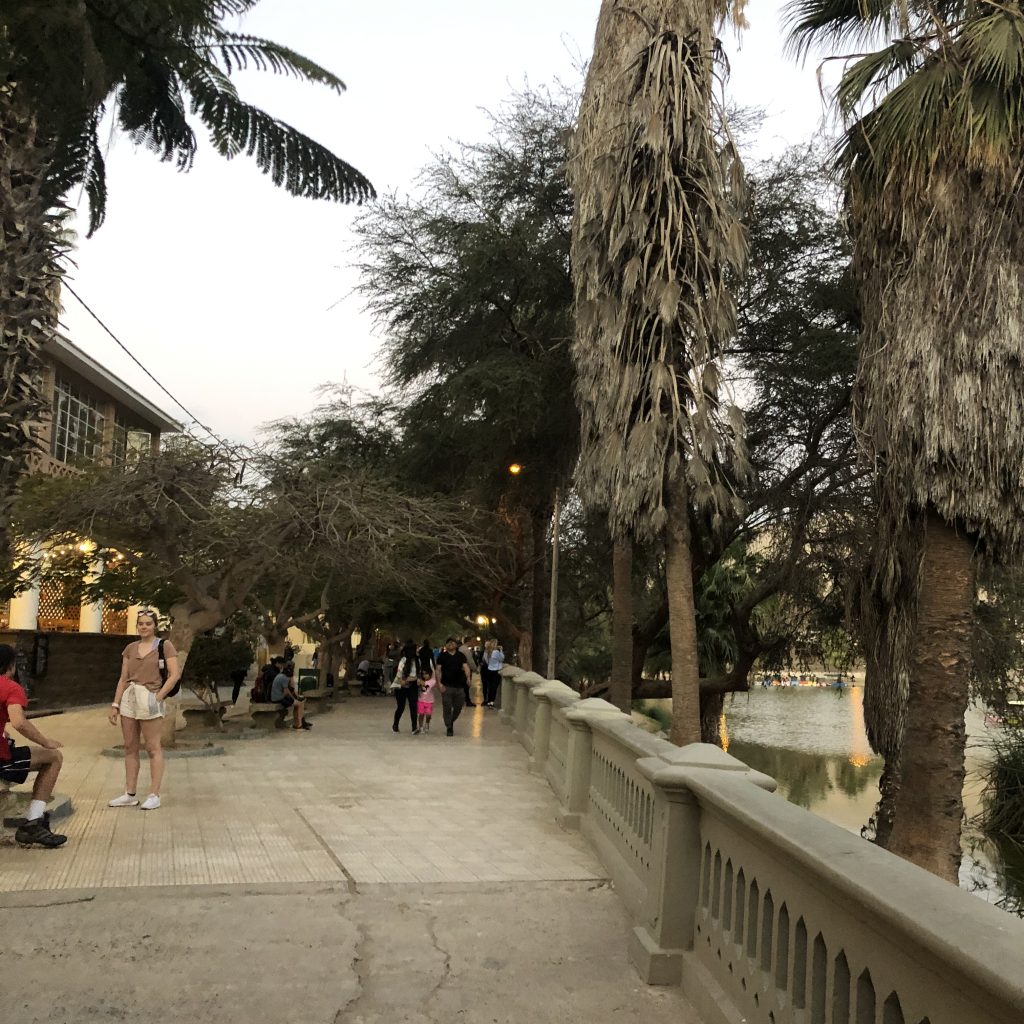 Nazca Lines
The Nazca lines are one of the world's most famous historical traces of ancient civilisations. They are enormous drawings of birds and creatures in the dirt. They are so big that you can only see them from above. It is possible to take a small plane to fly over them, but I would advise against it. It is quite expensive, and I could see them very well from a tower built near them (see picture taken from the tower). Moreover, many people get sick on these planes, and they are not very safe. There is no need to stay the night in Nazca, and most people stop to see the lines on their way from Huacachina to Arequipa.
Arequipa
After Huacachina, I went to Arequipa, Peru's second largest city. It is beautiful and was definitely one of my favourites to visit. When I was there, there were protests going on and the police everywhere, which was quite scary.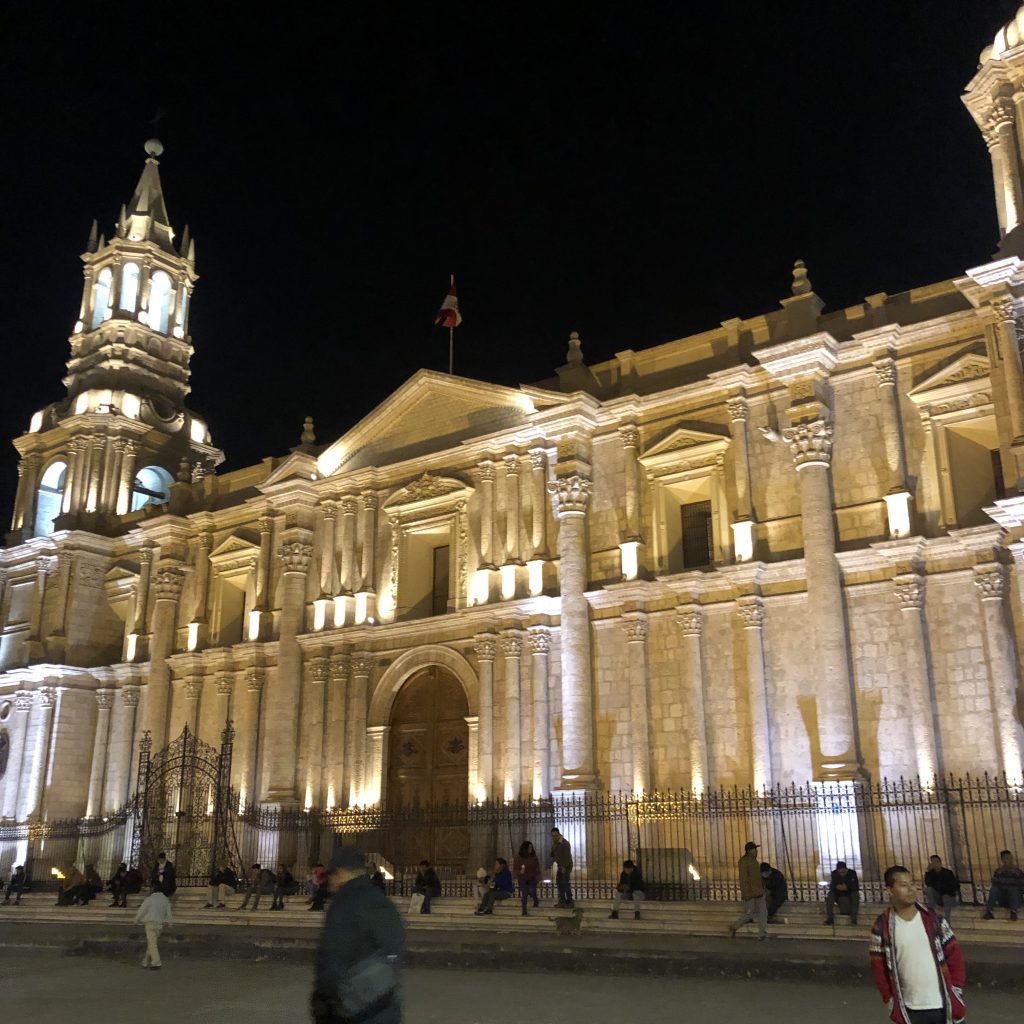 It is the starting point for the visit of the Colca Canyon. The pick-up time from the hostel was at 3:30AM. No one told me before going that it snows at the top of the canyon, so I did not bring a coat. As I did not know I was going to be travelling in Peru, I did the whole trip in Vans shoes. I would advise that you bring a warm coat and walking shoes to Peru. Many older people suffered from altitude sickness, a couple of them even fainted. It is important to take the necessary altitude medication before going to the canyon. We also visited a small mountain village, where people were dressed on colourful traditional Peruvian outfits.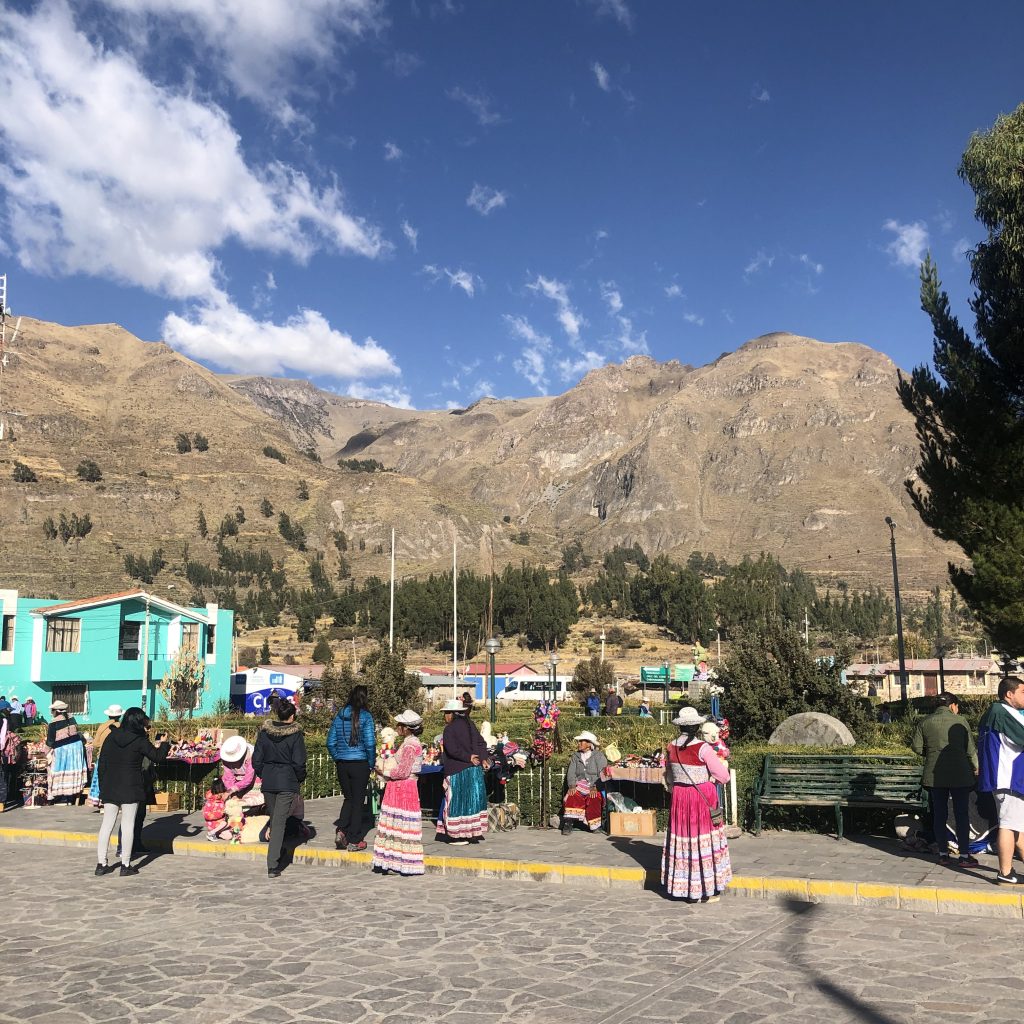 Cusco and Machu Picchu
Cusco, with Lima, is the most visited city in Peru. The city itself is pretty, but I still preferred Arequipa. It is the starting point to go to Machu Picchu, an ancient village which is also one of the World Wonders. It is advised that you take a few days to acclimatise yourself to the altitude before travelling to Machu Picchu. Planning my visit to Machu Picchu was extremely confusing and difficult. There are so many different websites and packages, and the price range for them is very wide.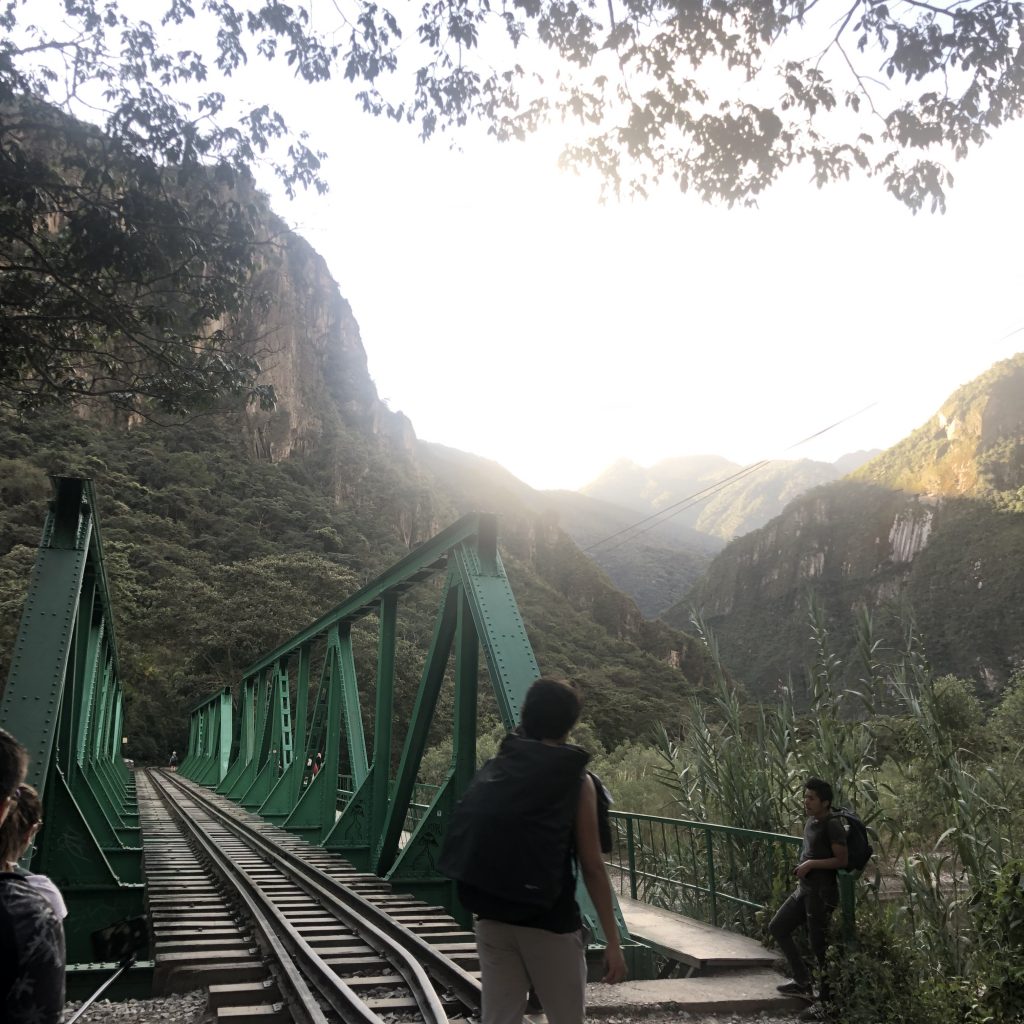 Many activities in Peru can be planned on the spot, which is why a lot of tourists do not book anything before travelling. Hostels always have free rooms and activities do not necessarily have to be booked in advance. If I had to change one thing to my trip, I would not have booked everything in advance. I only did so because I was alone and deemed that it would be too dangerous for me to be too spontaneous and disorganised. However, if there is one thing you do need to book in advance, it is your trip to Machu Picchu. In fact, only a limited number of visitors are allowed per day, and it books up quickly.
There are many ways to get to Machu Picchu. Some people do a 5 day trek in the jungle before arriving. However, I did not have the appropriate shoes and clothes, neither did I have the motivation to do that. It took me hours of comparing to find the cheapest and most convenient way to get there. I ended up booking a round trip which lasted two days and one night, and cost me 168$ including the transport, the hotel and the tour guide (it is not possible to visit Machu Picchu without a tour guide). I booked with a company called Haku Travels, and was given very little information about the trip. All I knew was that someone was going to pick me up at 07:30AM. A minibus arrived at around 8AM. We drove for several hours before arriving to a gathering place. It was in the middle of mountains and nature, and all that was there was an open restaurant. The place was full of tourists and guides. Somehow, I found my guide, who was going to take me to the town of Aguas Calientes, which is at the bottom of Machu Picchu. You can take a train from the restaurant to Aguas Calientes, but it is around 80$, so I walked there with the guide. It was a 3 hour walk along the railroad tracks, which would have been easier if I had walking shoes. The guide takes no breaks, and there are very few bathrooms along the road, all very dirty and poorly maintained, so drink and go to the bathroom before the walk. The road itself is beautiful, the nature is halfway between a forest and a jungle, it is a very peaceful setting.
We arrived at Aguas Calientes at the end of the afternoon, the town is beautiful and has markets and colourful shops. The way it lights up at night is magical. From there, I was taken to a hotel and even had a room to myself. It was a luxury I had not had since the beginning of my trip. Machu Picchu is at the top of a mountain. I was told that a guide would be waiting for me at the top of the mountain, and that I could go up either by bus or by foot. I decided to pay extra and to take the bus to go up, and then to walk the way down.
During my whole trip, when people saw that I was alone, they always offered to help me, or to escort me wherever I was going. I look very young for my age, and people often thought I must be no older than 16. A couple from Colombia took me to the ticket office so that I could buy my bus ticket.
The next morning, I took the bus up. I met a Korean woman who was dressed in a traditional Korean outfit. Tourists come from all around the world to see Machu Picchu. At the top, I went up to every guide saying my name until I found mine. Peruvians have a very laid back attitude to things. I always trust that things are going to work out and I never get stressed out by not knowing where I need to go, and this has really helped me during the trip. If you do choose a cheap package for Machu Picchu, be sure that you will be able to keep calm if you do not find your guide, or if you do not know where you will be in an hour.
The visit of Machu Picchu was surreal. Archeologists know very little about the village, Machu Picchu was actually an invented name, we do not know what it used to be called. The houses are made of stone, without cement. However, people visit Machu Picchu for the vibe, more than for the historical significance of the archeological site. The view is breathtaking and the foggy atmosphere extraordinary. It is fascinating to think that people used to live in such a beautiful place.
After the visit, I walked down the mountain, and started the 3 hour walk back to the place with the restaurant where the bus had left me. The way it worked was that mini-busses came to the restaurant and shouted a list of names of the people they were supposed to take back to Cusco. I arrived at the restaurant and sat there, trusting that my name would be shouted at some point. It did a couple hours later, but I had to go look for a driver, be insistent and speak to people to find out which bus was mine.
Rainbow Mountain
The trip to Rainbow Mountain, like many activities in Peru, starts early. The Mountain has only gained its rainbow stripes recently, after melting of the snow due to climate change. Again, I was not ready for the cold on the mountain, a coat is essential for it. A Puerto Rican lady kindly lent me her wool headband. I also did the climb in my Vans, but proper shoes would make it easier. It is difficult to breathe due to the altitude and the lack of oxygen, which makes the climb harder for people with respiratory difficulties. Nevertheless, the climb was actually not as bad as I expected it to be.There is an option to climb on a donkey, so it is doable by anyone. There are also alpacas to pet at the top. I have seen many pictures of rainbow mountain with vivid coloured stripes. In reality, it is definitely worth seeing, but the colours are less intense. Sadly, the colours will wash off over time, so go see the mountain before it is too late!
Lake Titicaca
After Cusco, I travelled to Puno. I stayed the night there to visit Lake Titicaca the next day. The lake is at the border between Peru and Bolivia and is known for its floating islands. I actually regretted staying the night in Puno. The city is not at pretty as Arequipa or Cusco, and a stop is not necessary.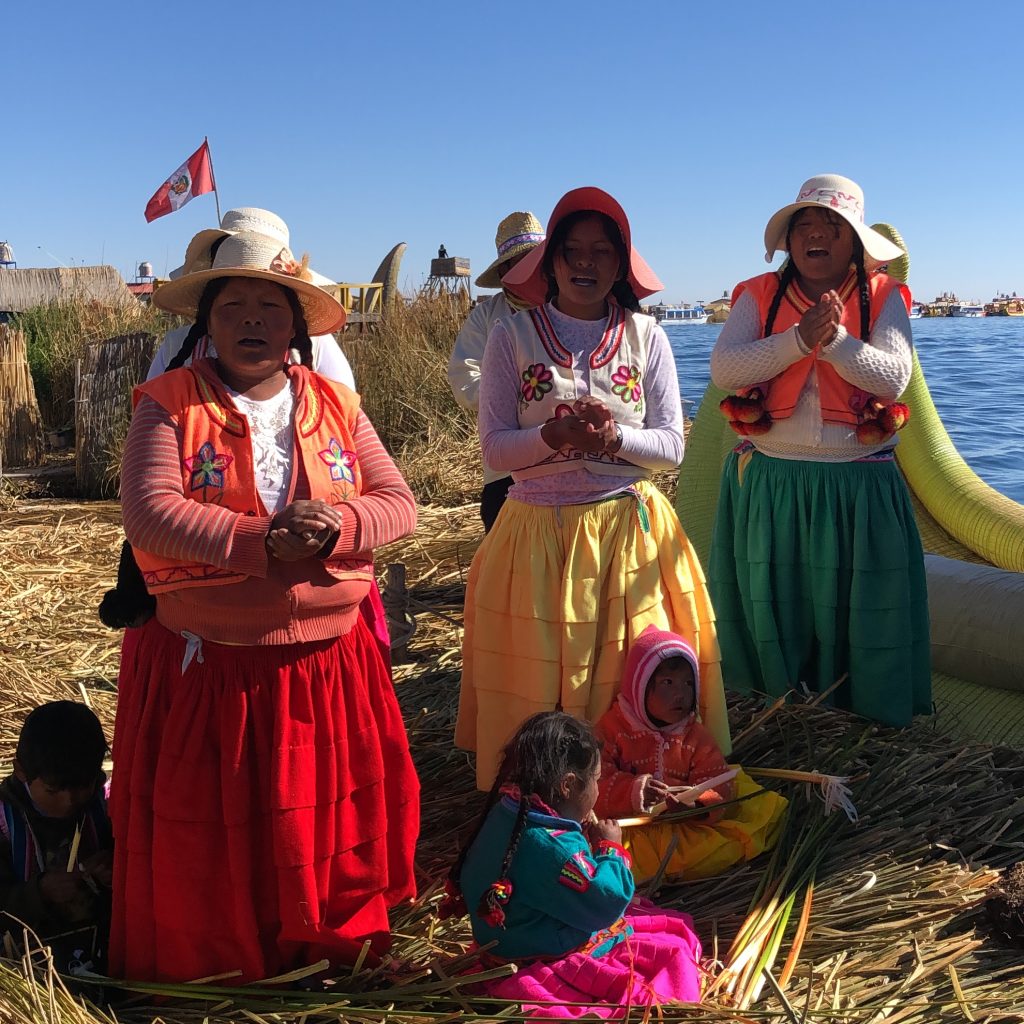 From Puno, I took a boat to the floating islands, where locals used to live. The floating islands were man-made by the Uru people, who still welcome tourists in their traditional outfits and sell handmade items. they also show us inside the huts where they say they live, although they probably have not been living on the floating islands for some decades. It is a weird feeling to walk on the island, I felt like it could break at any point. The Urus did a dance and sang a song, and then people could get a ride on their man-made boats. This type of cultural experience is really unique. Do not forget to take your passport, as you can stamp it as a souvenir. This is done in many tourist activities in Peru.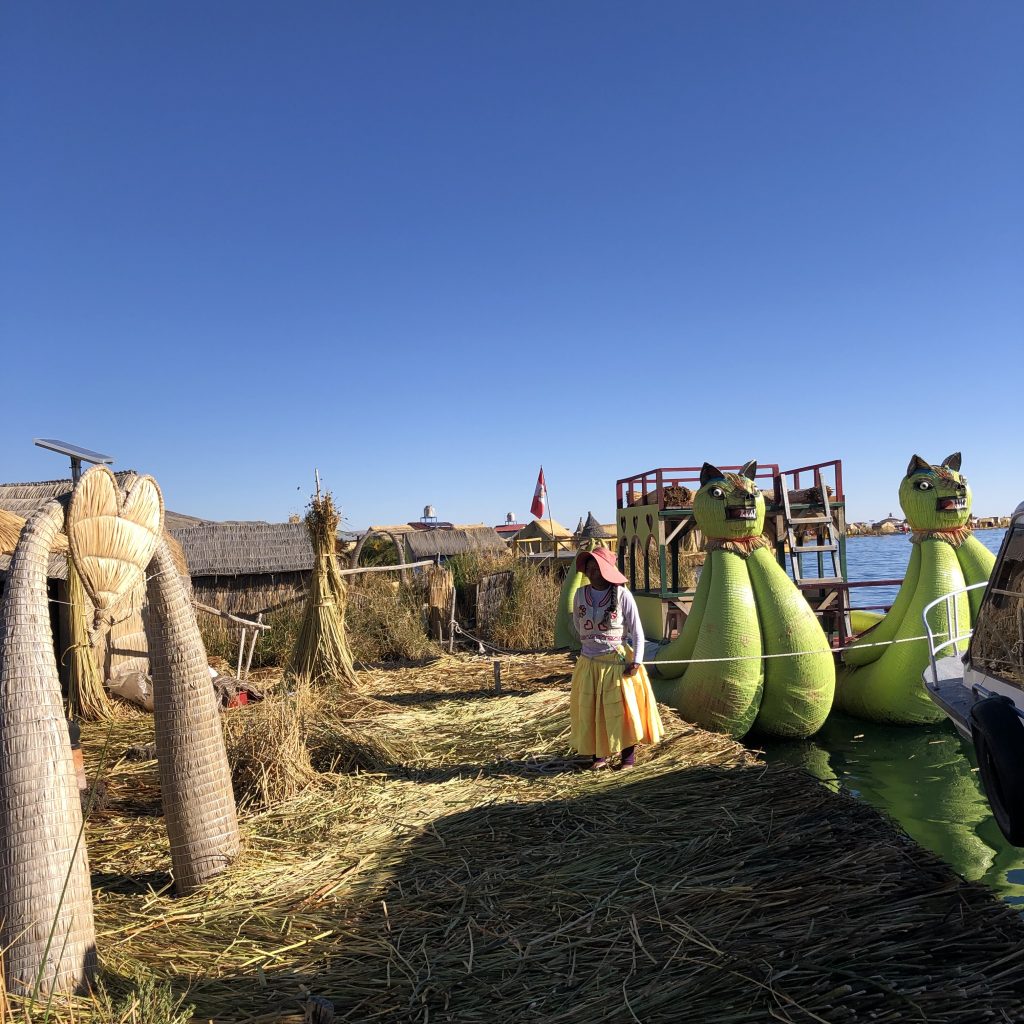 After visiting the islands on the Peruvian side, the bus headed to Copacabana in Bolivia. From there I took a boat to Isla del Sol, an actual (not floating) island on Lake Titicaca. The boat ride can be very painful for people suffering from sea sickness. Additionally, the altitude there is still quite high, and it gave me headaches during the whole trip. On the island, tourists are taken on a nature walk toward the village. The village's church is beautifully decorated, and offers a shelter from the strong sun. On the main square, locals were dancing and playing musical instruments in their traditional clothes. Although the island is often described as being the highlight of a visit to Lake Titicaca, I would recommend that if you had to leave something out because of time constraints, it would be this. I thought is was not nearly as exciting as the visit to the floating islands. The view was spectacular but the island itself was underwhelming. I do not think it is worth spending the night on it.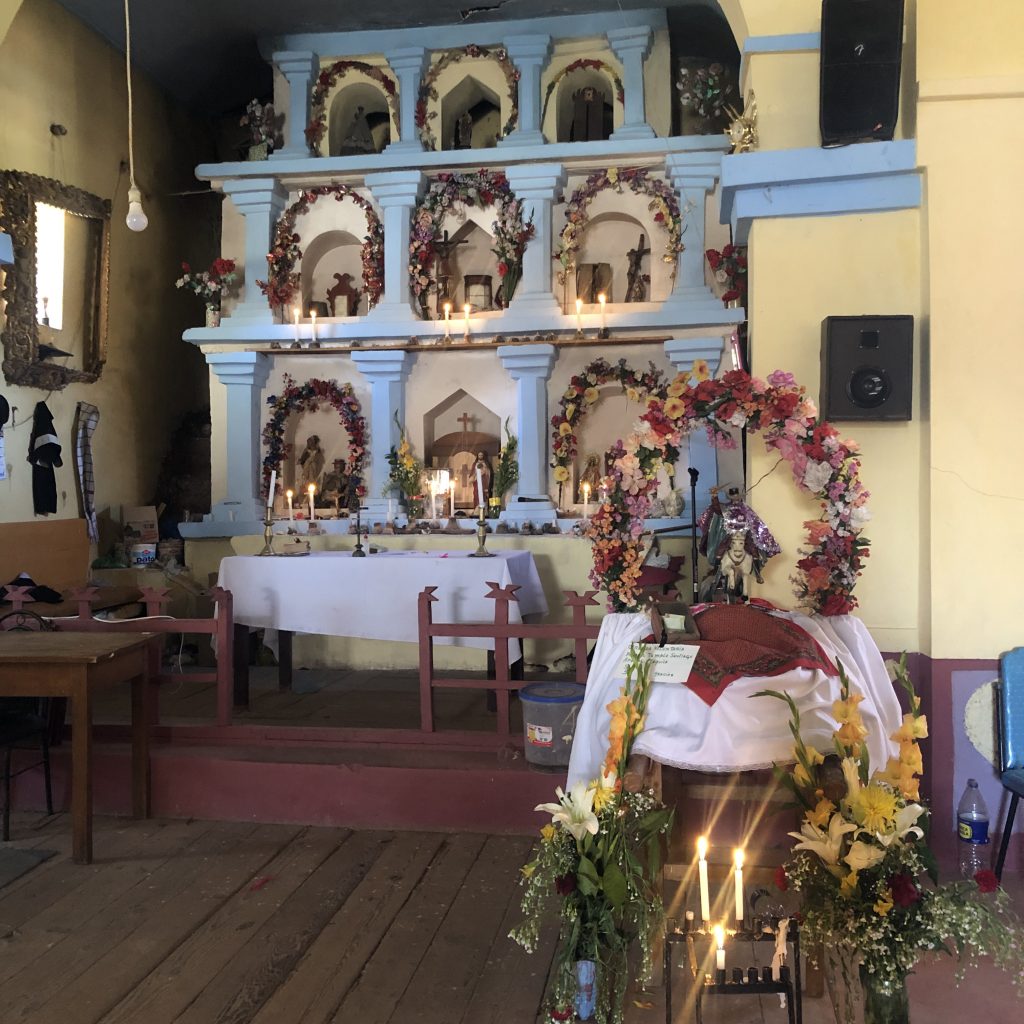 La Paz
From Copacabana, I took a bus to La Paz. Many tourists who travel to Bolivia skip it, but I thought it was one of the prettiest places I visited during my trip. La Paz is definitely the city I remember most vividly because it was like nothing I had seen before. The city uses gondolas as public transport, and the view on the city from a gondola is beautiful, with all of the buildings built with the same pinkish brick. I gives out a vibe of organised chaos.
As soon as I arrived at my hostel (another branch of the Wild Rover), a girl in my dorm asked if I wanted to go to the bar. I do not usually go out with complete strangers, but I did. The Wild Rover bar was crazy, and the bartenders were giving out free shots every hour. From there, we took a taxi to another bar in the city. I had a lot of fun, La Paz is really a party city. Looking back, I am shocked by my recklessness. Honestly, this was my attitude during the whole trip, I was not scared at all of the fact that something bad might happen to me.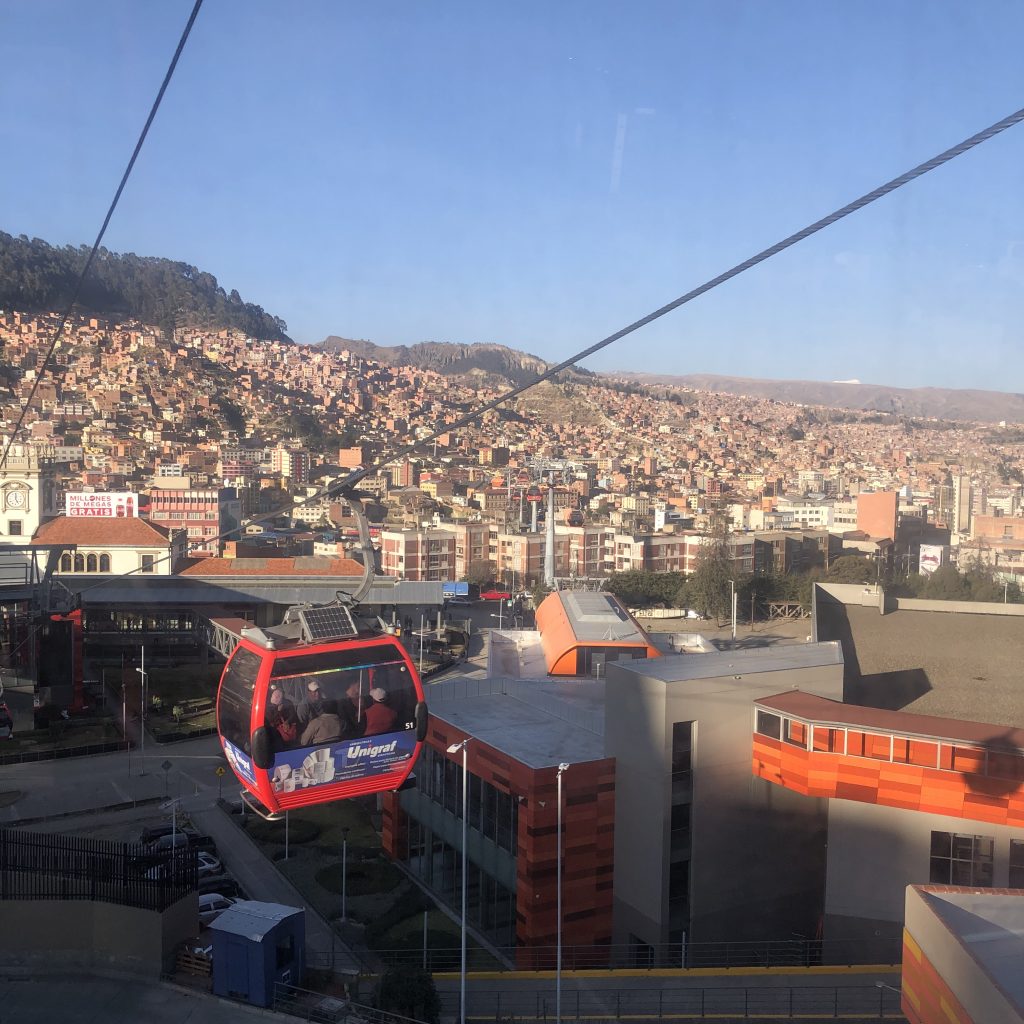 La Paz is famous for its Witches' Market, known to be colourful. Although it is indeed nice to look at, all the shops sell the same things and no more than a half hour is needed to see everything. The city is also known for its mountain biking on the "Death Road", allegedly the most dangerous road in the world. The rides are quite expensive, around 80$, so I did not go.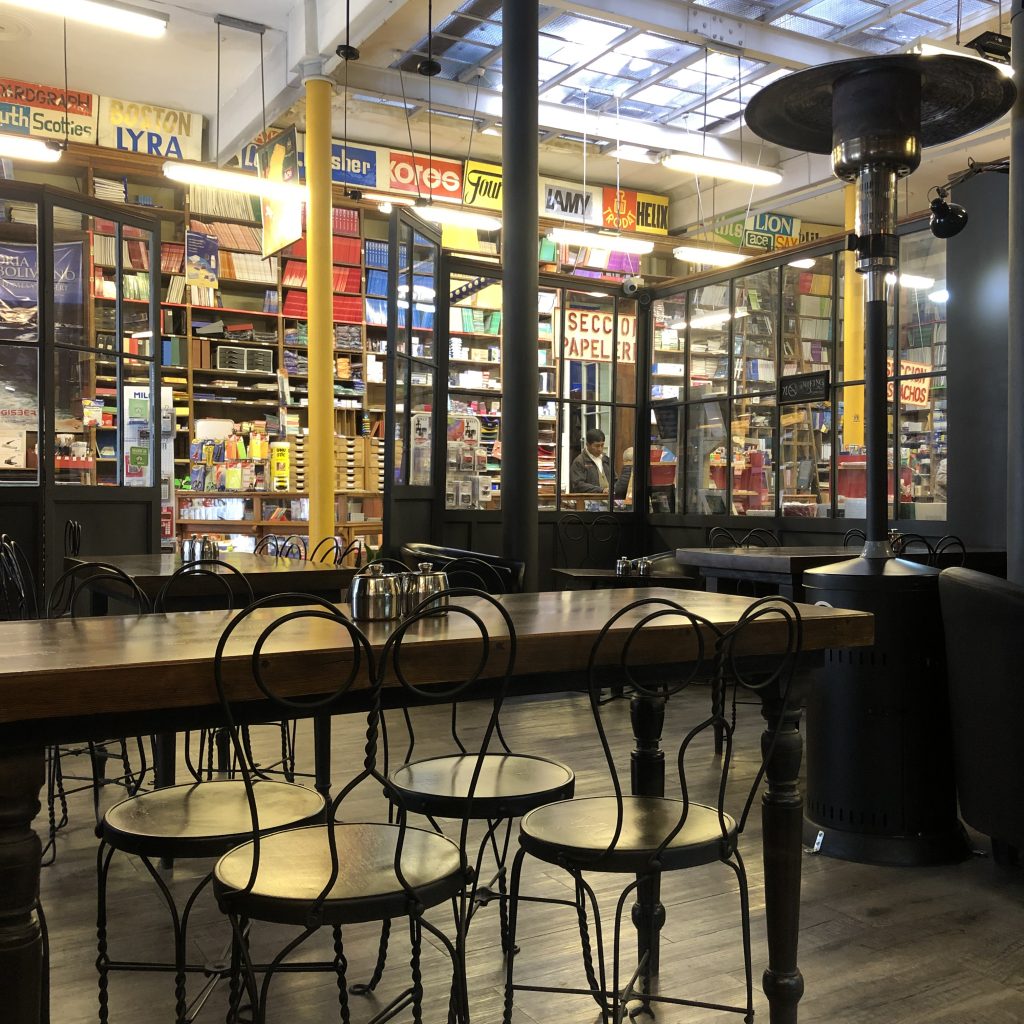 Tourists often do not realise that La Paz, and all of Bolivia, is suffering from a massive water shortage as the glacier which provides water to the city is melting. The hostels are asking their clients to limit their water consumption by taking short showers. It is scary to think that in 10 years, if nothing is done, La Paz will have become a ghost town.